Storage Facility in Shreveport, LA
For over 35 years, E-Z Storage has provided affordable, accessible, secure self storage and vehicle storage spaces to residents of Shreveport, LA. We offer 24-hour access to all 300 of our storage units and 80 of our outside transportation storage spaces, kept safely behind a gated, surveilled enclosure. Make the most of your storage needs and contact our storage facility about rates and availability!
Secure Self Storage, Made Simple
Whether you're running out of storage space in your home, need temporary storage while you move or are just looking for long-term solution to keeping your belongings safe, units in Shreveport, LA are the answer. E-Z Storage is proud to live up to its name, making it simple for you to get the storage you need, at a rate that's affordable. From simple 5'x10' units for general use, to massive 10'x30' units for business storage, our units are clean, secure and ready to be occupied by your items. And, no matter what you leave at our storage facilities, it's guaranteed to remain safe and sound.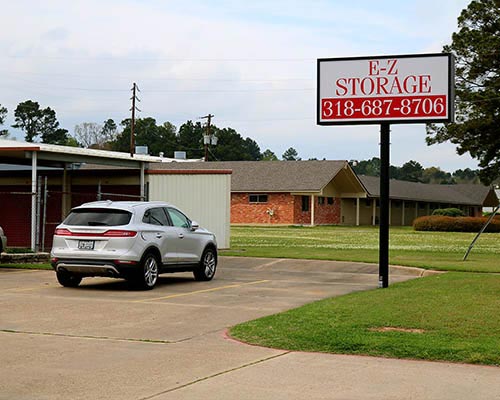 Access Your Unit At Any Time
We're completely dedicated to our customers and their items. More than just offering you general secure self storage in Shreveport, LA, our facility takes every precaution to give you both peace of mind and accessibility. Our storage facilities are gated and closed off to the general public, with individual keypad access for our customers. On top of this, we have CCTV surveillance to monitor our units and deter trespassers. Despite being completely closed off, you're able to access your unit at any time, 24 hours a day, so long as you have your gate access code! And, with paved driveways and wide aisles, you'll have no trouble driving in, loading and unloading. Contact our storage facility today and see exactly how E-Z Storage lives up to its name!
Customers have 24-hour access to all units and outdoor vehicle spaces.
Our storage facility is fully-gated to keep trespassers out, with keypad access for customers.
We have a new, state-of-the-art CCTV system to monitor the premises.
Our units come in a variety of sizes, from 5'x10' to 10'x30'.
Our lot is fully paved, with wide drives that make it easy to maneuver your vehicle.
Proudly offering self-storage solutions and vehicle solutions for Shreveport, LA and throughout the following areas:
Bossier Parish, LA
Caddo Parish, LA
De Soto Parish, LA
Audrey Park, LA
Bethany, LA
Bossier City, LA
Conn, LA
Forbing, LA
Frierson, LA
Four Forks, LA
Greenwood, LA
Keithville, LA
Lake View, LA
Stonewall, LA
Wildoak, LA
Wildwood South, LA
East Texas
Bethany, TX
Panola, TX
Waskom, TX
Get Self Storage
No matter what sized unit or how long you need it, we have secure self storage ready for you. Contact E-Z Storage in Shreveport, LA at +1 (318) 687-8706 today for more information about rates and availability. Whether you're moving, preparing for a renovation, or just need some extra garage space, always keep it E-Z with our storage facilities.